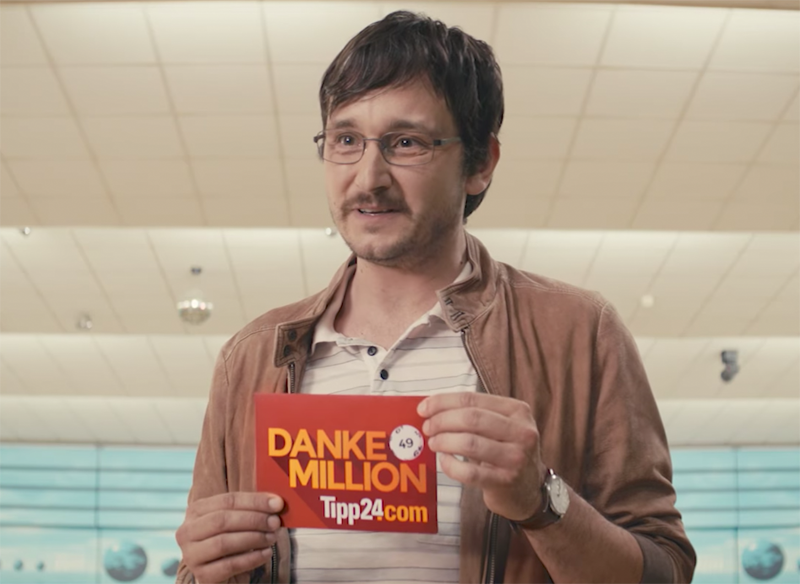 Wer kennt es nicht. Der Kunde möchte eine Kampagne, die "Talk of Town" Potential hat. Was Virales, über das alle begeistert sprechen und schreiben. Aber das Produkt hat keine nennenswerte Differenzierung und soll, auf gar keinen Fall, verändert oder angefasst werden.
Die Agentur Überground hat nun eine Idee entwickelt, die dieses "Talk of Town" Potential hat, das Produkt noch interessanter macht, ohne es zu verändern. So ungefähr, wie wenn man beim Kauf eines Bierkastens einen Flaschenöffner dazubekommt.
Es ist: eine Million Euro zusätzlich beim Gewinn des Jackpost. Als "Dankes-Million" aber nicht für den Gewinner selbst, sondern für jemanden, den der Teilnehmer im Vorfeld nominieren muss. Der Insight dahinter: viele, die einen Lotto-Jackpot gewinnen, machen sich danach darüber Gedanken, wem Sie etwas davon abgeben sollten, was den eigenen Gewinn mindert. Bei Tipp24 ist die Million für die Eltern, Geschwister oder besten Freunde gleich mit dabei.
Natürlich ist das Risiko nicht besonders groß. Wie hoch ist die Wahrscheinlichkeit, dass ausgerechnet ein Teilnehmer dieser Aktion den Jackpot gewinnt? Außerdem kann man sich gegen solche "Schadensfälle" heutzutage versichern lassen.
Der Film, der natürlich dazu gemacht wurde, erinnert mich stark an "The Big Lebowski". Soll vermutlich so sein.